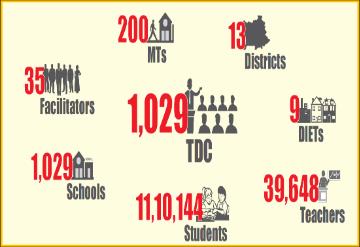 Delhi Government's earnest act is to build national love of childhood, a profound respect for teachers as trusted professionals, and a deep understanding of how children learn. Focusing on the core ideology of highly competent teachers are key to nation building. They must be trained in" personalized learning". So that instead of control, competition, stress, tests, exams, they try warmth, collaboration, and highly professionalized, teacher-led encouragement and assessment.
Delhi government in first phase has launched various initiatives in Delhi education space and as a flagship to Mentor teacher program which was started initially in the year 2016, Delhi Government also started Teacher Development coordinator program in 2017. As a part of this program, one efficient teacher is being deployed as Teacher Development Coordinator (TDC) in all government schools under Directorate of Education. The major role of TDC was centered around to provide school specific academic support and encourage peer learning/collaboration among teachers.
Introduction to TDC program
The Teacher Development Coordinator (TDC) program is an initiative introduced by SCERT as the extension of the flagship Mentor Teacher Program. The Teacher Development Coordinator is a teacher of the school whose role is to provide teachers with academic support and help create a peer-learning environment. TDCs contribute to the development and management of a consistent and cohesive academic environment in schools which can help keep teachers intrinsically motivated to constantly work towards improving their skills and classroom practices. Similarly, the program aims to create such a motivating environment at every level of the system. The Teacher Development Coordinator directly works with all the school teachers under the guidance of the principal to achieve the vision of program "A System where everyone can learn".
Vision
Every child - Engaged, feels safe, loves learning, trusts and values their teacher, is curious and thinks critically. The teacher's classroom practices will be more engaging and support learning for students.
Every teacher - loves teaching and intentionally improves their classroom practice. This includes improving teaching classroom practices to be more engaging and support learning with understanding.
Every local and ministry official - prioritizes the support of teachers, and uses data and insights to continually improve. This also emphasizes improving teacher motivation through peer learning.
Program Objectives:
Children and young people today face a world of 'unknown unknowns'. To succeed, they need to develop a love of learning, and education systems need to support them by building the foundations of lifelong learning. This has been recognized in the development plans of many emerging countries. We support education systems to reignite intrinsic motivation in every teacher and official, to role-model the foundations of lifelong learning for every child.
How stakeholders support the program