The EMC Vision
For nation building, we need to nurture and develop leaders who dream big, take risks, set vision for inspiring innovations and demand excellence in execution. The world around us has no dearth of unsolved problems and untapped opportunities. Why do we not see a large number of graduating students identifying opportunities, brainstorming and trying out solutions? Instead, we see masters and doctorate graduates lined up for applying to a peon's job. We need to prepare students' mindsets during school education so that they can take charge of their careers and become productive citizens of the country. Two video clips given below give more clarity into the Vision behind EMC.
The EMC Mission
Nurturing their own abilities, EMC empowers students to take charge of their career-paths in employment or entrepreneurship. Whatever the students choose to do, they must do it with the Entrepreneurship Mindset Entrepreneurship Mindset should not be confused with Entrepreneurship Skills. In this video highlighting the difference between Entrepreneurship Mindset & Skills, Dy. CM Shri Manish Sisodia appeals to high schoolers about why the Entrepreneurship Mindset is critical for building successful careers without fear.
Timeline
The Framework for EMC was released in February 2019. The curriculum was piloted in 300 classrooms across 24 schools in April-May 2019 and thereafter launched for around 7.5 lakh students of classes 9-12 in 1,000+ schools in July 2019. An independent process evaluation study was performed in parallel and its recommendation incorporated into the second version. The second version was extensively reviewed by over 80 teachers and it was launched in July 2020.
What is the Entrepreneurship Mindset?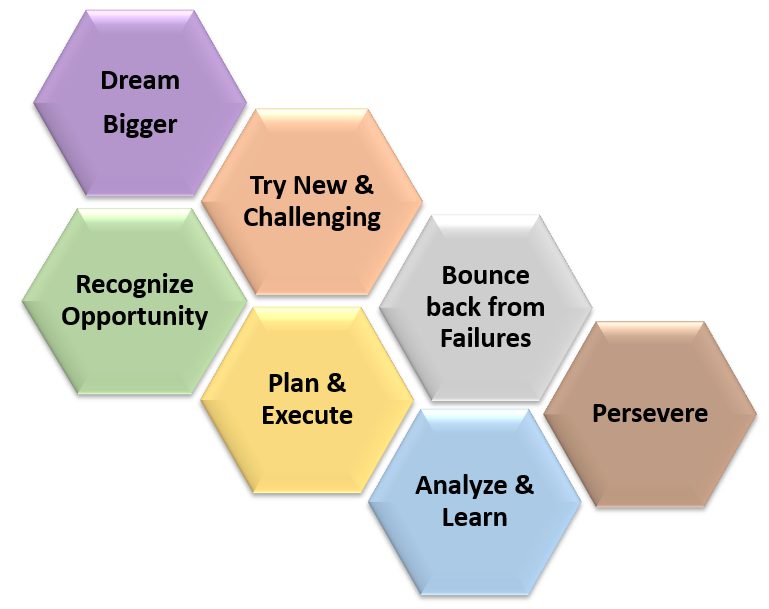 Irrespective of what they pursue, we want our students to think like an entrepreneur -- willing to dream big, try new and challenging goals, be able to recognize opportunities around, and then plan and execute to bring them to fruition. Failures are a part of life, but our students should be able to bounce back from them, analyze and learn from both successes and failures, and relentlessly persevere to achieve their goals. These entrepreneurial abilities are linked with several foundational abilities and key qualities listed below.
| S. No. | Foundational Abilities | Key Qualities |
| --- | --- | --- |
| 1. | Critical Thinking | Creativity |
| 2. | Communication | Curiosity |
| 3. | Collaboration, Teamwork | Empathy |
| 4. | Decision Making | Joyfulness |
| 5. | Drive / Adapt to Change | Manage Fears |
| 6. | Ideate | Mindfulness |
| 7. | Integrity & Ethics | Observation |
| 8. | Problem Solving | Self Awareness |
| 9. | Reflect, Analyze | Self Confidence |